Post by BW901 (The Management) on May 2, 2021 8:59:45 GMT
Donating to airlinerperformance.net will help me keep offering high-quality PFPX performance files for as many aircraft types as possible.
Step 1. To make a donation please head over to
Buymeacoffee.com
. You will see 3 options, to buy me 1, 3 or 5 beers (no I don't drink coffee but I am partial to the odd beer or two), with donations of £3, £9 or £15 respectively. Chose your donation level, click on the Support button below and follow instructions.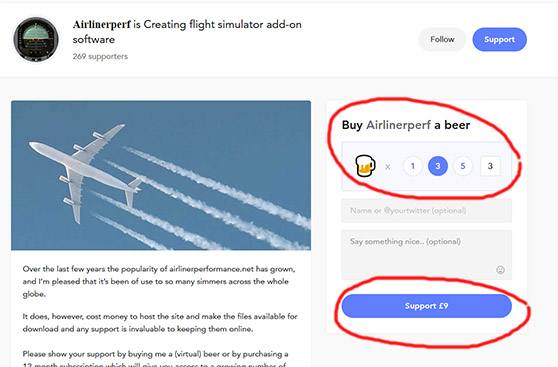 If you are kind enough to donate £3, I will send you 1 PFPX performance file of your choice by way of thanks.
Donate £ 9 and you can chose up to 4 files.
Donate up to £15 and you can chose up to 8 files.
The currently available PFPX performance files are listed
here
.
The email address used to make the donation
The BuymeaCoffee transaction number (eg 97T57225BG424601B), if you have one.
The donation amount
Which PFPX performance file(s) you would like. Please state Engine details where applicable, eg 330-302 GE. The current list of available performance files is
here
.
Please Note:

I will reply to your email with the requested PFPX file(s) attached. If all the details match I will try to be back to you within
48 hours
. This is a hobby not a business and timezones and weather (I have a lot of grass which needs to be cut regularly) play a factor in the interval between receiving a donation and being able to sit at my computer to respond. If your contact email address and the address through which the Paypal payment is made are different I reserve the right to contact the Paypal payer directly to ask for confirmation, this will add time to the process. Sorry to have to even write such a statement, but you would not believe the scammers out there (maybe you would!) and I want to protect myself and you folks.
The
PFPX performance files list
is colour coded.
Entries in black ARE NOT YET AVAILABLE
Entries in BLUE are freely available, and you can download them by clicking on the download link
Entries in Green (listed as "file uploaded") are available on request as a thank you for donating, or are available to existing subscribers via their Dropbox folder.
Thanks again for your continued support, and have fun in the sim with these files.